Pavlova with rose cream, cardamom & salted caramel shards by Ashia Ismail-Singer of 'My Indian Kitchen'.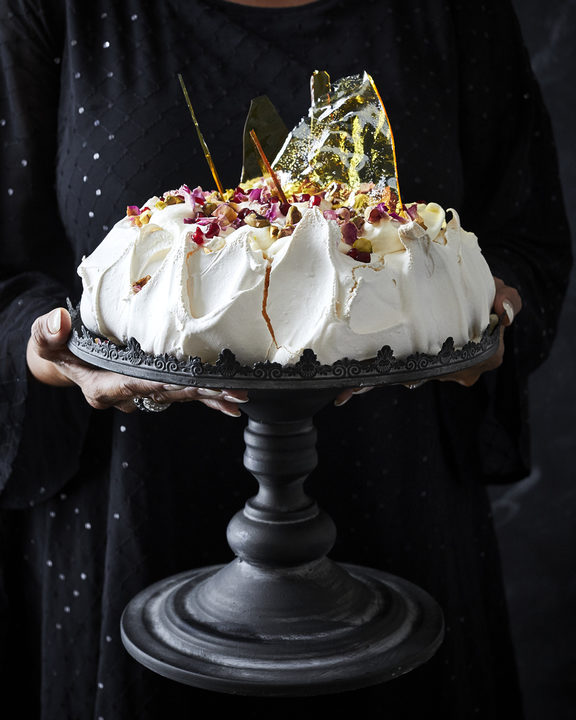 "The first time I had pavlova was when I was invited to a Christmas lunch with my husband's family. This is my mother-in-law Wendy's recipe, to which I have added an Eastern twist." - Ashia Ismail-Singer

Serves 8-10    Prep time 30 mins    Bake time 1.5 hours
pavlova
4 egg whites
3 tbsp cold water
1 cup sugar
1 tbsp cornflour
1 tsp vanilla essence
1 tsp white vinegar
rose cream
300ml fresh cream
a couple of drops of rosewater
salted caramel shards
1 cup caster sugar
1 tbsp salt flakes
60ml water
1-2 cardamom pods, seeds extracted and crushed
to garnish
fresh berries of your choice
Method
Pre-heat oven to 160°C.

Grease a sheet of foil, then run it under a cold tap.

Beat egg whites with an electric beater or mixer till stiff.Add water, then gradually add sugar. Slow the beater and add cornflour. Next add the vanilla essence and vinegar. The mixture should now be thick and glossy and should stay in whichever position you pull it.

Place the mixture onto the greased foil on a baking tray (just pile
it in a circular mound about 20cm high, gently flattening the top so you can decorate it).

Bake in the oven for 15 minutes at 160°C and then turn oven down to 130°C for 1 hour. It should be a light creamy/pale gold colour.
Find more incredible recipes like this in the 'My Indian Kitchen' cookbook, here.